Interactive Web-Based Training
The knowledge, skills, and strategies taught in the book are now available for those who prefer to learn online (24/7)
Know which objections you will get based who and what you're competing against
Learn the skills common to:

PREVENTING all objections
PREEMPTING all objections
RESPONDING to all objections
NEGOTIATING TRADEOFFS for all unanswerable objections

Learn the specific strategies for each of the categories of objections
Get the opportunity to develop objection prevent, preempt, and response strategies for the objections you get
Select this link or the logo on the right to preview and buy the course on OpenSesame.com ($15.00).
---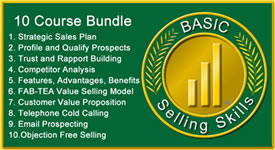 The Objection Fee Selling eLearning course can also be purchased as a part of this cost saving bundle.
Basic Selling Skills
Logical, Systematic, & Consistently Effective
Essential basic selling skills that make logical sense and are used with diagnostic precision to consistently produce exceptional results.
This course bundle consists of nine individual courses that all use the same language, blend seamlessly, and utilize common knowledge, skills, and strategy structures to produce results that are immediate, observable, measurable, and sustainable.
Courses in the bundle:
Strategic Sales Plan: Why Sales Fail and How Wins are Won
Profile and Qualify Sales Prospects
Trust and Rapport Building
Competitor Analysis
Features, Advantages, and Benefits (FAB)
FAB-TEA Value Selling Model
Customer Value Proposition (CVP) Sales Presentation
Telephone Cold Calling with Voicemail Strategies
Email Prospecting
Objection Free Selling: Prevent, Preempt, and Respond to Every Sales Objection You Get.
Each course includes downloadable job aids and other learning tools.
Select this link or the course logo to the right to preview and buy the course on OpenSesame.com ($90.00).